ENTRIES TO THE NORTH DOWNS RUN 2020 ARE NOW OPEN!!
Entry is via the Run Britain Website
https://www.runbritain.com/races?keyword=North%20Downs&month=01/06/2020
If you would prefer to enter by post, here is an entry form
ENVIRONMENT
The North Downs Committee are aware of the impact on the environment of the run and are taking steps to mitigate this.  This is an update on the steps we plan to take for this year's run:
ENVIRONMENTAL UPDATE FEBRUARY 2020
The results for the 36th North Downs Run (2019) are available here
The North Downs Run also hosted the BMAF Multi-Terrain Championships and the results are available here
Well done if you completed the North Downs Run.
Talented local photographer Dawn Granger was out on the course and took lots of photos!
https://www.facebook.com/pg/DGPhotoImages/photos/?tab=album&album_id=2357526791167878&ref=page_internal
Club member Colin Blackman also produced this amazing video of the event – https://www.youtube.com/watch?v=_RpfSNBunGw
Thank you so much to all our supporters, helpers and marshals for your help in putting on this event.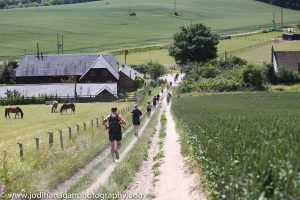 The route of the North Downs Run passes through some of the finest scenery in Southern England. Starting at Cascades Leisure Centre, Thong Lane, Gravesend, Kent DA12 4LG runners thread their way across farmland to Shorne village before descending gently southwards through Cobham Park into the Cuxton Valley and the steep drop down to Lower Bush. Then begins the relentless climb to Holly Hill, followed by a welcome descent into Great Buckland.
The route crosses the fields to Luddesdown Court and over picturesque "Cricket Pitch Hill" (often with an incredible spread of poppies during May/June). There follows an 800 metre road section at Henley Street taking you past 'The Cock' pub.
Leaving Henley Street, the course passes through Kent apple and pear orchards to reach the historic village of Cobham.
Crossing Cobham High Street, into Jeskyns Nature Reserve & Ashenbank Wood and then through scenic Shorne Wood Country Park for a seriously challenging uphill section before emerging onto the Shorne Ifield Road and the path back across the fields to Cascades Leisure Centre for the FINISH.
The time limit of 4 Hours 30 Minutes will be strictly enforced this year.
We are always looking for marshalls and helpers for this race.   If you are available, please email Istead_membership@hotmail.com
Headphones are not allowed on the North Downs Run (with the exception of Bone Conducting type).
The course is unsuitable for Wheelchairs.
Runners are not permitted to take dogs on the course.
British Masters
Since 2016 The North Downs Run has hosted the British Masters Multi-Terrain Championship.  For more information about BMAF, visit their website.
Result for 2018:  NDR Results 2018.
Results for 2017: NDR Results 2017
Results for 2016: Results 2016
Results for 2015: Results 2015
 Results for 2014 Results 2014
Results for 2013 Results 2013
Results for 2012 Results 2012
Results for 2011 Results 2011
Results for 2010 Results 2010
Results for 2009 Results 2009
Results for 2008 Results 2008
Results for 2007 Results 2007
Results for 2006 Results 2006