North Downs Run – SOLD OUT
Sunday 24 June at 10.30 starting from Cascades Leisure Centre, Gravesend, Kent
 
Many thanks to our sponsors and supporters, who enable this race to go ahead.
The race has sold out.  There will be no entries on the day.
On Sunday 24 June, the 35th North Downs Run will take place.   This is a busy week of final preparations for us.  An army of people have been out of the course cutting back and ensuring it is suitable to run.  Race Information has been sent out to our runners over the last few days, and we are getting the numbers ready to be picked up on race day.  Medals and tshirts are ready to go.  Cake bakers are busy baking so finishers will have a fine selection of cakes to come home to, and we are just fine tuning the marshall allocations.  Finally a big shop to get all the supplies for the race.
If you are able to volunteer on the day, or bake a cake please email istead_membership@hotmail.com.
Good luck if you are running.  The Results will be available on this link.
The Runners Information Guide has been emailed out to all runners.   It also can be viewed here: Runners Information Sheet 2018.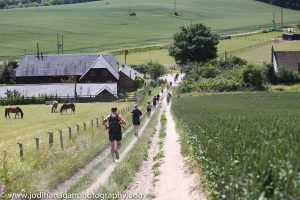 British Masters
In 2018 The North Downs Run will again host the British Masters Multi-Terrain Championship.
The route of the North Downs Run passes through some of the finest scenery in Southern England. Starting at Cascades Leisure Centre, Thong Lane, Gravesend, Kent DA12 4LG runners thread their way across farmland to Shorne village before descending gently southwards through Cobham Park into the Cuxton Valley and the steep drop down to Lower Bush. Then begins the relentless climb to Holly Hill, followed by a welcome descent into Great Buckland.
The route crosses the fields to Luddesdown Court and over picturesque "Cricket Pitch Hill" (often with an incredible spread of poppies during May/June). There follows an 800 metre road section at Henley Street taking you past 'The Cock' pub.
Leaving Henley Street, the course passes through Kent apple and pear orchards to reach the historic village of Cobham.
Crossing Cobham High Street, into Jeskyns Nature Reserve & Ashenbank Wood and then through scenic Shorne Wood Country Park for a seriously challenging uphill section before emerging onto the Shorne Ifield Road and the path back across the fields to Cascades Leisure Centre for the FINISH.
We are always looking for marshalls and helpers for this race.   If you are available, please email Istead_membership@hotmail.com
Results for 2017: NDR Results 2017
Results for 2016: NDR Results 2016