It was almost like old times on 23rd May, when a total of 24 Istead runners donned their purple vests to compete at the Island Run in Sheerness – 16 in the 10k and a further 8 in the 5k.
The club had 7 men in the top 20 and 3 women  the top 10.
First home for for Istead was Dan Smith in 36:19 (3rd place and  a PB), followed by Mark Champion in 37:38 (6th), Dan Walsh 38:13 (9th), Dominic Montford 39:35 (13th), Kieron Mumford 39:40 (14th) Al Savage 40:0 (16th), Matthew Holt 41:04 (19th)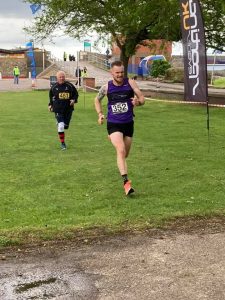 Dan Smith finishing strongly at the Island 10k
Lynne Champion was 2nd female in a time of 43:10 (30th overall), followed by Caroline Howes 46:15 (49th overall) and Becky Newnes 49:51 (81st overall).
Full results can be found here.https://resultscui.active.com/events/theislandrun3