As part of the series of virtual challenges set by Istead throughout the various lockdowns, a virtual 'mob match'was organised between Istead and  Dartford Harriers.
The challenge was to run a 10k during the week of 22nd February.  It was agreed that scoring would be on the basis of age grading, with the top 60 runners from both teams scoring  – 60 points for the highest age grade down to 1 point for the 60th.   Additionally all runners scored one point for their participation.
Thanks to a concerted Facebook campaign to get as many runners as possible out,  Istead fielded an impressive 76 runners – with some runners returning from injury  walking the 10k to 'earn' their one point.  Dartford fielded  33 runners.
The two clubs joined a virtual Zoom meeting on 1st March, when the results were unveiled.  Some very impressive age grade scores, together with the 'strength in numbers'approach, resulted in a win for Istead, with 1035 points, against Dartford's 795.
It should perhaps be noted that the 10k distance favoured Istead, who specialise in road racing, over Dartford Harriers , who are predominantly a track club.  In recognition of this, Dartford have challenged Istead to a re-match over 5k, hopefully to take place when we can compete face-to-face rather than virtually.  The result may well be different, but for now,Istead can bask in its glory!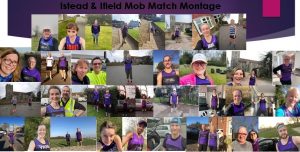 Istead club members were encouraged to wear club vests – a rare outing for them with no 'normal' races!