August was a pretty good month for Istead runners!
18 Istead Runners took part in the East Peckham 10k on 4th August , with Barbara Ockendon, Trevor Edgley, Jan Giles and Jackie King all winning prizes for their age group and several other runners bagging PBs!
6 runners took part in the Mount Ephraim 10k on 18th August – with Istead runner Paul Jones winning the race in 36.35 and, together with Aaron Pritchard and Dan Walsh, picking up  the male team prize.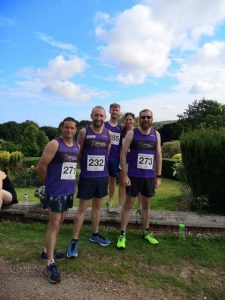 A week later, on a scorching Bank Holiday Monday, 5 Istead runners completed the Canterbury Half, with Ed Bovingdon coming in first in a blistering 1:17:25.  But don't think Istead are just about winning races.  Barry Marsh – GP and genuine Samaritan – helped a young first timer who was suffering from asthma to complete the run.  As another Istead runner commented  – some things are more important than fast times.