Having taken part in various 'virtual' events across the summer, some members have made a tentative return to actual races, undertaken in accordance with COVID guidelines, which include small waves, rolling starts and strict rules regarding social distancing both on the course and at the start and finish areas.
3 Istead members took part in the Chatham 10k on 6th September, with Dan Smith coming home in 43.48, followed by Julie Aspinall  in 1.11.43 and Lisa Smith in 1.21.58.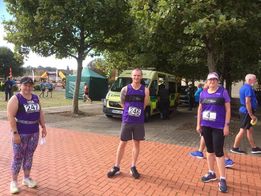 Matthew Holt was the lone Istead participant at the Bewl Water Half Marathon, coming in a commendable 18th out of 140 runners in a time of 1 hour 48 minutes.
Three hardy runners braved the blustery conditions at the Folkestone Half Marathon on 27th September with Ed Bovingdon finishing in 3rd place in a time of 1.11.31.  Helen Fooks completed the course in 2.05.39, followed by Jason Beaney i 2.15.08.