A record 57 runners turned out for Istead & Ifield at the Shorne Woods Cross Country on 5th January, ranging in age from 21 to 75!  And they were confronted with an abundance of mud and hills – a proper cross country!
First home for the club was Paul Jones in 8th position, with Katie Vick in 7th place for the Women.  The club finished in 7th place in the Combined Team Results (3rd for the Women and 9th for the Men).  Overall after 4 events Istead Women are in 2nd place, and the Men in 10th Place, giving them a Combined Team Standing of 8th out of 18 teams.  Two Istead women – Lynne Champion and Katie Vick are in the top ten Female runners across the 4 cross country events in the series to date.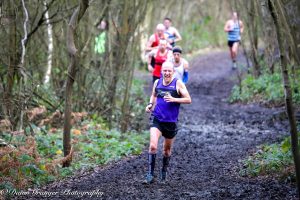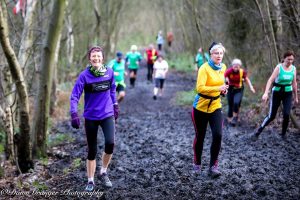 Mark Champion and Jackie Day tackle the mud!
Photos by Dawn Granger